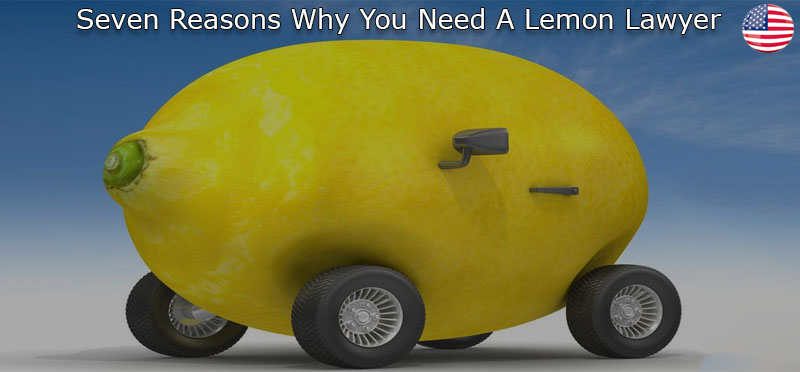 Lemon Laws are legislation for consumers to seek compensation in refund or replacement for a motorized vehicle purchased with a significant mechanical defect.
Usually, remedies for mechanical defects are covered by warranty.
However, lemon law caters to those vehicular problems which are not repaired after multiple recalls for repair and described as a 'lemon.'
Best possible compensation

Lemon lawyers are attorneys who are allies in your case against the automobile manufacturer and provide legal assistance in getting you the best possible compensation against your problematic car, RV, motorcycle, or truck.
Lemon laws in the US are state-specific. To ensure you don't frantically handle the situation with your lemon or make erroneous decisions, here are seven reasons why you should hire a lemon lawyer –
1. No expenses involved
Lemon law permits legal representation to anyone who takes up a lemon law case against a manufacturer for no extra cost.
Lemon lawyers can help you with your case for free.
2. Once a mistake, twice a lesson
Manufacturers can re-evaluate your buyback amount with cuts coming from mileage offset or usage deductions.
Lemon lawyers can help you build a strong case against them and ensure you get the offer entitled to you.
3. Maximize the settlement
Lemon lawyers understand the business and the legislation intricately.
They can handle the negotiations for you and ensure the compensation you get is the best one on the table.
4. Building the case
You want the rightful compensation against your tumultuous experience with your vehicle.
The best deals come with a robust case supported with reasonable claims.
Lemon lawyers have the expertise in what legal proceedings can ensure you get the most lucrative offer.
5. Closure outside the courtroom
With the proper client coaching, legal counsel, and a clear understanding of what happens behind the scenes, most lemon lawsuits can be closed before it sees the inside of a courtroom.
6. Save your time and energy.
Lemon lawyers take the hassle of meetings, phone calls, paperwork – all off your hands.
As they take up your representation, you can go through the entire process stress-free.
It also saves time and, of course, money.
7. Your best interests in mind.
The legislation and bureaucracy involved in bringing your case to justice are daunting.
Lemon lawyers are trained professionals who handle these cases with the consumer's best interests in mind.
Leave all the legal jargon to their expertise and knowledge and get compensated the best way possible.