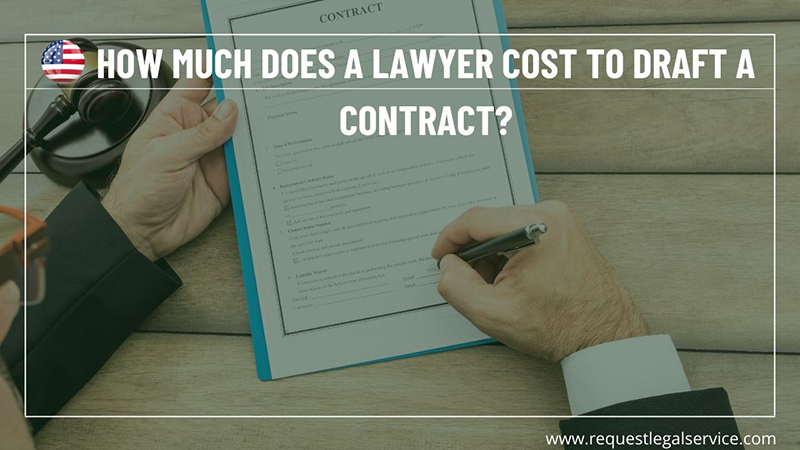 It is difficult for us to create a contract in proper order, and it is because we are not aware of the ins and outs of the law. 

Therefore, there will be some errors if you even try to draft a contract.
Consequently, it is necessary that when you are preparing a contract, you must take the help of a lawyer. A lawyer will guide you through the entire paperwork and ensure that you achieve the purpose of your agreement.
However, there are some charges that you have to pay the lawyer depending upon the type of contract.
The cost of hiring a lawyer to draft a contract depends upon the complexity of the contract.
Following are the various categories of the agreement for which the lawyer's fee differs:
Simple Drafting
If you hire a lawyer to draft a straightforward contract, the lawyer will usually charge a flat fee. However, the fee can vary between $200 to $800, depending upon the agreement.
You can also hire a lawyer online who will do the needful in drafting a contract. However, the lawyer may charge an hourly fee ranging from $150 to $500 per hour.
Complex Drafting
If you have a complex contract, the lawyer's service fee can be expensive. The rate may range between $800 to $2500 depending upon the complexity of the contract.
However, if you are hiring a lawyer online, he may charge you on an hourly basis that can range between $150 to $500 per hour.
The typical charges
If you hire a lawyer to draft your contract hourly, it becomes expensive. However, it is not usually an hour for which the lawyer charges as there are intervals.
Moreover, while drafting a contract, various issues may arise that can extend the time.
Hence, the cost also increases. Therefore, it is better to use a legal plan membership or hire a lawyer who charges flat fees as the lawyer will be able to complete the work without considering the time.
Hence, when you hire a lawyer for drafting a contract, the following are the standard procedures:
An initial consultation.
He will make a first draft of the document.
He will then call you to discuss the document and take notice if you need any further changes.
Finally, revise the documents once or twice.
Call to Action
Therefore, it is necessary that when you hire a lawyer or legal plan to draft a contract for you, you must first make clear how he will charge for his services. Then, once you agree to the payment procedure, you can proceed with the processing.