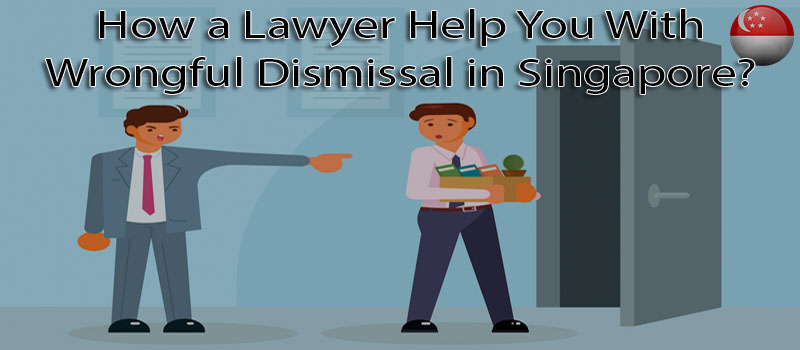 Dismissals in an organization generally arise from an employee's misconduct or underperformance, or redundancy in the workforce. 

However, suppose you are an employee protected by the Employment Act in Singapore. 

In that case, your employer cannot dismiss you without prior notice or terminate your contract.
Even if an employee has worked for 26 weeks, they must receive an intimation at least a day before. If your employer unlawfully removes you, a lawyer can help you seek justice.
What are wrongful dismissals?
Wrongful dismissals are dismissals from work without any reasonable cause or notice.
The Tripartite Guidelines on Wrongful Dismissal define it through some examples –
Discrimination based on race, gender, religion, etc.
Depriving employees of maternity leave or other employment benefits.
Dismissals arising from employees' rights, such as filing a workplace harassment issue or salary-related dispute.
What to do when you are unfairly dismissed?
Resolve the issue internally
---
When you feel you are wrongfully dismissed, start by seeking clarifications from your employer.
Before approaching a lawyer, meet with the HR department. Make sure you know your right and terms of service. Document the meetings and have a factually focussed discussion.
Based on the outcome, you may have your position reinstated, or dismissal clarified. Otherwise, you may proceed to seek external legal aid.
External help
---
Start with filing a mediation claim at the TADM. You receive free legal advice and support services on employment-related matters.
Domestic workers, government officials, and seamen cannot take this avenue.
You must have served a minimum duration of 6 months if you were in a managerial position and dismissed with notice.
For dismissals, while pregnant, you must have worked for at least three months.
The process differs based on whether you were a union member or not.
While engaging a lawyer is not mandatory, they assist you in filing paperwork, and you may use their advice.
Taking the case to Employment Claims Tribunal (ECT)
---
If the mediation sessions under TADM are unsuccessful, the ECT offers efficient and affordable ways to resolve dismissal cases.
The outcomes may give you back your position at the company or receive fair compensation from your employer.
You need a Claim Referral Certificate from a TADM mediator to fulfil the ECT claim within the following four months.
Finally Approach Lawyer
---
Finally, if all mediation sessions fail, you may approach the Magistrate's Court with a lawyer's help.
Your Call to Action



While leaving your company, make sure your dignity is intact. 

Please find all the help you need from our expert lawyers and legal advisors by filling up the form on our website.
Effective ways to seek help for Workplace grievances in Singapore?